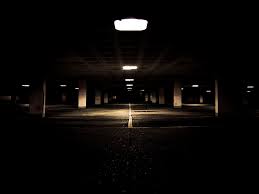 Neil has been back to one of his favourite local hotels this past week to sort out rather damp electrics following a couple of floods in the last three weeks – summer certainly feels like it has left us for another year. The rain had caused problems with the lighting for the hotel's underground car park so Neil spent all of last Saturday working to install temporary new lighting. Luckily the new lights are a great success and there are no longer guests wandering in subterranean darkness bumping into each other while searching for their trusty Volvos!
On the subject of damp and dark conditions, don't forget to get outside lights checked before the winter arrives – you don't want them to short out or fail when it's raining and dark at 7pm on a Monday night and you need to find something in your shed.
Neil also took some time to install a new automatic external defibrillator (AED) at Upham village hall. These are very clever devices which actually talk you through the process of delivering a lifesaving procedure in the event of a cardiac emergency, so it is imperative that they are correctly installed and tested properly. The initiative to put AED's in lots of rural communities is fantastic to see, and it's comforting to know help could be at hand if you fall ill quite far from a hospital or ambulance station.